Let's be honest, the world of comedy wouldn't be the same without David Spade. With his larger-than-life personality, his sarcasm and his self-deprecation, David Spade has risen from the ranks to become one of the most sought-after comedy actors of all time. And we absolutely love him. But where did he come from?
Well, David Spade was born on July 22, 1964, in Birmingham, Michigan. Although he had a relatively normal upbringing, it was no secret to the family and friends around him that David had a knack for all things funny. During his college years, David started to perform stand-up comedy for his fellow students and absolutely rocked the stage. Despite the fact that he was studying business, the people around him knew that he was destined for stardom – and backed him the whole way. In fact, with the help of one of his pals, David Spade managed to get his start on Saturday Night Live, and the rest is history!
Over the course of his career, David Spade has appeared in films such as Tommy Boy, Rules of Engagement, The Emperor's New Groove, Grown Ups, Joe Dirt and more. He has turned his comedic ways to the world of Hollywood, but also to the stand-up comedy crowd across the country, and across the world. His hard work, determination, and ability to understand comedic timing has earned him an Emmy Award nomination, and two Golden Globe nominations – but it doesn't stop there. In 2003, Spade was awarded a star on the Hollywood Walk of Fame, one of the highest honors an actor could receive. Pretty cool, huh?
However, as the years have gone by, David Spade has built up another reputation for himself. This reputation is not for his comedy or his acting. Instead, this award is for his outstanding ability to attract the ladies. Apparently, David Spade is quite the charmer, and as this list will show you, one who has managed to win over some of Hollywood's most gorgeous leading ladies.
Carmen Electra
We're not sure how he does it (can he teach us his ways?) but over the course of his career, David Spade has managed to romance some of the most beautiful and famous women in Hollywood – and even though these rumors were only rumors, we're still pretty impressed. In 2006, David allegedly had a romantic relationship with none other than the legend herself, Tara Leigh Patrick, whom we all know as Carmen Electra.
Jillian Barberie
When it comes down to it, we learn most of our information about David Spade from the various guests on the Howard Stern Show, and other talk shows – because how else are we going to learn everything about our favorite celebrities? Case in point: Canadian-American actress and radio host Jillian Barberie, who made our day when she appeared on the Howard Stern Show in 2009 and dished on her intimate nighttime meeting with David Spade in 2004.
Pamela Anderson
Not much of a surprise considering David's love for blonde Playmates, Pamela Anderson also found herself on this list. As one of the most famous Playboy Playmates in the publication's entire run, and arguably Baywatch's steamiest lifesaver, this actress supposedly became close with David while the two were partying together in Las Vegas. We say "rumor" because as the saying goes, what happens in Vegas stays in Vegas. Oh, if only these roulette wheels could talk!
Nicky Whelan
Well, well, well, it seems David Spade doesn't just have a thing for British women. In fact, it seems he's partial to the odd Aussie or two as well. Enter Nicky Whelan. This Neighbors actress actually managed to tie down this elusive bachelor, and the pair dated from 2007 until 2008. The pair first met on the set of "Hollywood and Wine" and soon hit it off straight away. However, David just wasn't ready to give up his bachelor lifestyle for this blonde bombshell, and they later ended things.
Sara Foster
As the list of David Spade's paramours goes on, we come across another golden girl of the West Coast – Sara Foster. This California girl made a name for herself back in the day on everyone's favorite show, Beverly Hills 90210 and has since seen success as an actress and model (which is David's type summed up to a T). David and Sara were allegedly in a relationship in 2004, but it soon fizzled out.
Jasmine Waltz
If you're a fan of the popular British show, Celebrity Big Brother (if you haven't watched it yet, we'd highly recommend it if you love a bit of drama) you probably watched Jasmine Waltz make a pretty impressive impact on the house. Well, it seems this actress has also made a pretty impressive impact on David Spade. In 2011, the pair were often spotted on cozy dinner dates and getting up close and personal over their spaghetti. These sightings led the press to believe they were dating. We definitely approve.
Tara Reid
Tara Reid was many a guy's crush during the late 1990s and early 2000s. She began her acting career in Saved By the Bell and broke out onto the film scene in the movie The Big Lebowski. She is well known for reprising roles in classics such as American Pie, American Wedding, Van Wilder, and for having a recurring role on the TV series Scrubs. She is more currently known for reprising roles in the Sharknado films franchise.
Tara Reid and David Spade
David Spade was causing quite a stir around the turn of the new millennium when he was rumored to be dating America's crush Tara Reid. The two were allegedly together between 1999 and 2000, right after Tara Reid starred in American Pie as well as Body Shot. However, the two broke up relationship and decided to go their separate ways. It's too bad they're no longer a couple, though; they really were as wholesome as warm apple pie.
Naya Rivera
It seems this Glee star has moved on to bigger and better things since leaving the high school show in 2015. In April 2017, David Spade and Naya Rivera were spotted getting pretty steamy in a hotel pool together. This close encounter was met with rumors that the two were dating. However, this was never confirmed by either one of the actors. Well, you can't deny it – these guys definitely make one fun-looking couple!
Heather Locklear
Heather Locklear is an actress who really first gained international prominence for her role in T.J. Hooker, Dynasty and and the movie The Return of the Swamp Thing (although she's more known for her Razzie for Worst Actress in that movie). After joining Melrose Place in the '90s (and making it must-see TV), her acting career picked up steam, and she was cast in roles in shows such as Scrubs, Ally McBeal, Rules of Engagement, Hot in Cleveland, and Too Close to Home.
Heather Locklear and David Spade
David Spade and Heather Locklear dated in the early 2000s while the former model and actress was in between husbands. However, the relationship did not last very long, and the two broke up. While David Spade himself thinks he knows why women flock to him, Locklear says that the reason why the world's most beautiful women can be seen with Spade is due to his, well, you can fill in the blank.
Jillian Grace
It's no secret that David Spade is known as the ultimate ladies man, but many people forget that he is also a dad. In 2007, Spade met popular Playmate, glamour model and actress Jillian Grace and the two embarked on a swift and intimate relationship together. Their romantic relationship didn't last long but did result in the birth of their beautiful daughter, Harper Spade. The three of them make a pretty cute family, though sadly the pair didn't last as a couple.
Nicollette Sheridan
Apart from his love for models and Playboy Bunnies, David Spade also loves the English: over the course of his career, David Spade has allegedly dated numerous British models and actresses – including British-born actress Nicollette Sheridan. David and the Desperate Housewives star were rumored to be dating in 2008 when they were spotted out and about together. However, Sheridan and Spade just weren't meant to be. After watching her exchange barbs with all her Housewives co-stars, we're sure it's not for a lack of witticisms.
Brittany Daniel
Beginning her career on Leave it to Beaver, Brittany Daniel soon became a teen television star. She went on to reprise the role of Jessica Wakefield on Sweet Valley High before she starring in The Basketball Diaries with Leonardo DiCaprio. She then continued her career, playing the love interest in Joe Dirt before going on to reprise a role in That '70s Show and It's Always Sunny in Philadelphia. She also joined the Wayans brothers in their movie White Chicks.
Brittany Daniel and David Spade
David Spade and Brittany Daniel acted together on the set of Joe Dirt way back in 2001, and the two even did a sequel to the show 14 years later in 2015. It seems as if Daniel playing Dirt's love interest really rubbed off on her, and she ended up falling for the critically acclaimed actor. After staying friendly for a couple of years, the two decided to start dating in 2003. However, the couple ultimately ended up splitting just a year later in 2004.
Julie Bowen
Julie Bowen started out her career on the soap opera Loving before acting with Adam Sandler as the love interest in the movie Happy Gilmore. She then appeared in the movie An American Werewolf in Paris and Multiplicity. Bowen is still acting and remains in the public spotlight, reprising the role of Claire Dunphy on the hit television sitcom Modern Family. She is married to a software developer and has three sons.
Julie Bowen and David Spade
As it turns out, David Spade and Julie Bowen apparently dated as well. David Spade was in the middle of filming his movie Dickie Roberts, Former Child Star, and Bowen had been doing some voice acting for the animated series Justice League when they began to date each other in 2002. Sadly however, the two were not meant to last, and the couple went their separate ways in 2003 after about a year together.
Caprice Bourret
Caprice Bourret is a model actress hailing from California. She is half French-Canadian, and has been stunning the world with her amazingly good looks for decades. In fact, she has appeared on over 250 magazine covers in her life, from the Sports Illustrated Swimsuit Edition to GQ, where she was named Woman of the Year. She was also Maxim's Woman of the Year three years in a row.
Caprice Bourret and David Spade
Before starting to date Julie Bowen, it was reported that David Spade was commingling  with lingerie model Carpice Bourret. We are not really sure how they got introduced, but it could have been via David Spade's sister Kate Spade. It would certainly explain a lot of things. In any case, David was with the woman who we all wish we could get with as well. However, after a little bit, the couple decided to break up.
Charlotte McKinney
Let's be honest; the paparazzi are the kind of photographers we love to hate. On the one hand, those guys are pretty intrusive – and nobody got time for that. But on the other hand, they uncover some of the juiciest dirt on some of our favorite celebs. The paparazzi helped us out in April 2016, when they photographed David Spade having an intimate candlelit dinner with his Joe Dirt 2: Beautiful Loser co-star, English model and actress Charlotte McKinney. Perhaps they were just meeting to practice their lines?
Krista Allen
Krista came to prominence in her first role, an erotic TV series called Emmanuelle in Space. She then got a role on the show Days of our Lives, where she played Billie Reed. Allen also had a role in Baywatch and was in Liar Liar, CSI: Crime Scene Investigation, and Significant Mother. Krista Allen has been married twice, most recently to an Iranian rapper named Mams Taylor. The two divorced in 2012.
Krista Allen and David Spade
Rumos has it that in 2001, David Spade and Krista Allen were somewhat of an item. The two actors are known to have been on an episode of "Just Shoot Me" together back in 2003 near the end of the show. Things, however, did not end well for the supposed couple ,as Krista eventually sued Spade for $1 million for creating a reality TV show that he had allegedly promised her they would do together.
Stacey Hayes
Stacey Hayes is a pretty well known actress, having been in dozens of television shows, movies, and even infomercials. She has been on soap operas such as The Young and the Restless and Days of Our Lives, and even had roles in Boston Legal and Las Vegas. She is a regular at the Los Angeles Comedy Store where she is a stand up comedian. She was also a guest on MANswers.
Stacey Hayes and David Spade
Stacey Hayes and David Spade were seen together many times at the turn of the century, and the allegations that the two were together were fast and furious. It is interesting to note that David Spade began dating Hayes immediately after Tara Reid back in 2000. It looks like Spade had a thing for pretty, accomplished blondes back then.
Lara Flynn Boyle
Lara Flynn Boyle's first film role was actually Ferris Bueller's Day Off, but her scenes were eventually deleted. However, the role got her a Screen Actor's Guild card, so she ended up ahead anyway. She then got roles in Poltergeist, Dead Poet's Society, the TV show The Practice and a main role in Men in Black II. She has been married twice, most recently to a big time real estate investor. Boyle has also appeared more recently in episodes of Las Vegas as well as Huff.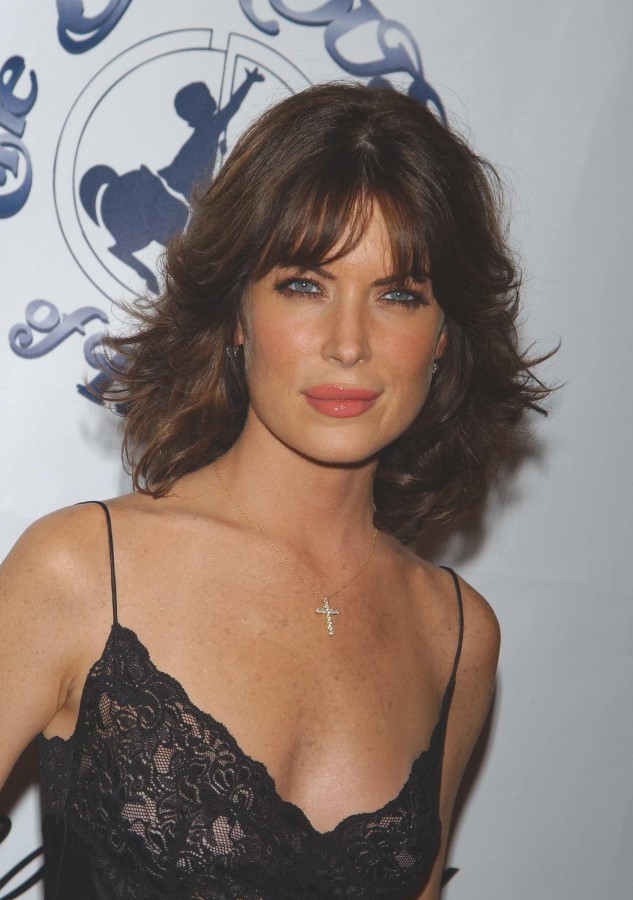 Lara Flynn Boyle and David Spade
Lara Flynn Boyle was dating David Spade for a year from 1998 up until 1999. But then, Jack Nicholson took her away from him. Allegedly, the three were at a party when Jack Nicholson asked Boyle out on a date – and right in front of David! David knew that he could not really intervene (since Nicholson is a Hollywood superstar), and Boyle flat out rejected him. However, Boyle then allegedly began dating Nicholson in secret, and eventually broke up with Spade to be with him.
Kristy Swanson
Kristy Swanson got her first roles in acting in the movies Pretty in Pink as well as Ferris Bueller's Day Off. However, the first time she ever got a starring role was in the Wes Craven film Deadly Friend. Sanson then went on to reprise the leading role in the Buffy the Vampire Slayer movie. Rounding out the 1990s, Swanson played the love interest in Adam Sandler's Big Daddy.
Kristy Swanson and David Spade
Kristy Swanson and David Spade were reportedly quite close back in the mid 1990s, with rumors that the two were regularly seeing each other romantically. At the time, Kristy was acting and filming Higher Learning, while David was filming Tommy Boy with comedic legend and close friend Chris Farley. We are not sure how these two found time to get together, but if they really did, it proves that David Spade is nothing short of persistent.
Teri Hatcher
Teri Hatcher actually began her career not in modelling or in acting, but as a cheerleader for the San Francisco 49ers. Her first ever acting role was actually in Love Boat before going on to play Penny Parker in MacGyver, The New Adventures of Lois and Clark, and as Paris Carver in James Bond's Tomorrow Never Dies. However, most people know her from her popular role on ABC's hit television show Desperate Housewives. GQ has listed Hatcher as the 38th most attractive woman of all time.
Teri Hatcher and David Spade
Teri Hatcher and David Spade were allegedly dating during the 1990s after they were seen nearly everywhere together. However, this could have just been because during an SNL skit back in 1996, Hatcher played David Spade and Spade played Teri Hatcher, both making fun of each other's styles, tone, and cadence. In any case, the relationship didn't work out. Teri apparently moved on, and she currently has a column in Glamour magazine.
Bobbie Phillips
Bobbie Phillips started out her acting career on a strong note, beginning by acting alongside Halle Berry in the Fox network show They Came from Outer Space. She then acted in the show The Watcher alongside none other than Sir Mix-a-lot. Phillips then went on to act in some of the top shows of the 1990s, including Married… With Children, Stargate SG-1, and The X-Files. Philips now owns a hotel in Costa Rica, a hotel that Conde Nast has described as one of the best in the world.
Bobbie Phillips and David Spade
Bobbie Phillips and David Spade were allegedly involved back in 1996. It was about this time that Spade was working on a film called Black Sheep, and Phillips was working on the critically acclaimed, post-feminist work Showgirls. The relationship seems to have been a very short one, as there is not too much written about the couple's romantic trysts. In any case, we're guessing David will not be staying at her hotel any time soon.
Jennifer Rubin
Jennifer Rubin began her acting career as so many other actresses do – as a model. Specifically, Rubin modelled for Calvin Klein, and even won the Ford Model of the Year Award back in 1984. She then went on to act in A Nightmare on Elm Street 3: Dream Warriors, and has even had a role in Transformers: Fall of Man. She seems to like the horror genre, having appeared in Tales from the Crypt, Twists of Terror, and Heebie Jeebies.
Jennifer Rubin and David Spade
Jennifer Rubin is quite tall, standing at five feet nine inches. So, it was quite a shock to us all when David Spade, who is only five foot seven inches, started to go out with her, as women usually like to date taller guys. The two dated briefly in 1993 but then decided to split off. How does David Spade pull all of these girls? Well, as he says, he just simply acts natural, as a quality woman will like you for who you are, not who you pretend to be.
Kelli McCarty
Beginning her career in the public eye by winning Miss America in 1991, Kelli McCarty decided to begin a career in acting. She was on television shows such as Even Stevens, Melrose Place, Beverly Hills 90210, and even That's So Raven. McCarty has also starred in a number of adult films, working with world famous producers Vivid Entertainment. She was even nominated twice for the AVN award for Best Actress.
Kelli McCarty and David Spade
Kelli McCarty was performing on Saturday Night Live when David Spade (and the rest of the United States to be honest) immediately fell in love with her. The two were acting in Saturday Night Live Together in 1992, and the couple quickly became something of an item on set. However, the courtship did not last long, and the two stopped seeing each other very soon after they started.
Kaitlynn Carter
Kaitlynn Carter is not really well known as an actress, but what she is known for should not be a surprise given this list. Carter is actually a fashion blogger who also just so happens to work as a model. She has appeared in magazines such as GQ and Maxim, and models for American Eagle, Zappos, Macy's, and La Mer amongst other companies. Carter has even started her own online clothing retailer called Foray Collective.
Kaitlynn Carter and David Spade
Clothing model Kaitlynn Carter was seen holding hands with David Spade back in 2012, leading to rumors flying that the two were possibly dating. However, the two decided not to continue with the relationship. After all, Spade is nearly twice Carter's age! Carter has since moved on, and got married to her boyfriend and former The Hills star Brody Jenner, thus making her linked to Caitlyn Jenner and the Kardashians!